Parler's success comes as Twitter and Facebook crack down on misinformation.
ByLaura RomeroNovember 17, 2020, 11:56 AM• 9 min read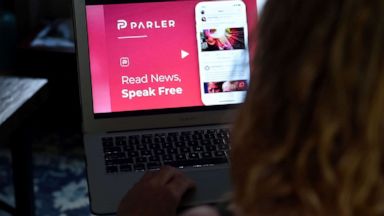 3:28
Millions flock to new conservative 'free speech' app
As Twitter attempts to stop the spread of misi…Read MoreOlivier Douliery/AFP via Getty Images, FILE
The popularity of a social media platform hinges in large part on a robust exchange of views. But what happens when it turns into an echo chamber where most people there share the same opinions?
That's the hurdle now facing Parler, a Twitter-style social media platform that has gained popularity mostly among President Donald Trump's supporters and right-wing conservatives. After the 2020 presidential election, experts ABC News spoke with say they believe it's unlikely the platform will ever grow to rival the size of networks like Twitter or Facebook, though it could continue to influence a smaller sphere.
Parler was founded in 2018 by John Matze and Jared Thomson, two Nevada-based conservative programmers. The app receives financial backing by Rebekah Mercer, the daughter of Robert Mercer, a hedge fund manager and the co-founder of Cambridge Analytica, who revealed her involvement in a post on the app on Sunday.
"John and I started Parler to provide a neutral platform for free speech, as our founders intended, and also to create a social media environment that would protect data privacy," Mercer said in the post. "The ever increasing tyranny and hubris of our tech overlords demands that someone lead the fight against data mining, and for the protection of free speech online. That someone is Parler, a beacon to all who value their liberty, free speech and personal privacy."
Last week, the app gained over 3.5 million users, according to Jeffrey Wernick, the company's chief operating officer. It is now at the top of Apple's App Store list of free apps.
The app advertises itself as a platform for free speech, where users can post "without fear of being 'deplatformed' for your views."